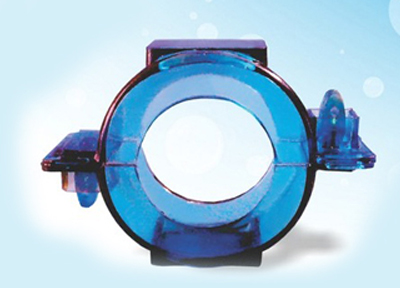 Water Meter Seals
Snap-Lok Water Meter Connection Nut Lock
(Metal Insert Locking Mechanism)
---
The Snap-lok tamper evident two-piece water meter connector nut
Security Lock is Most Effective Water Meter Locking System and prevent unauthorised access by any means once installed.
Easy push-ft locking mechanism provides positive, secured and permanent locking.
Supplied with additional security seals for secondary protection.
Customised with User Security ID and Unique serial numbering.
Transparent Body provides clear signs of Tampering.
Increased Resistance to Low and High Temperature, Weather Conditions.
Resistance to Ultraviolet Radiation.
Resistance to Boiling Water.
Toolless Application.
DESIGN FEATURES
Most effective tamper evident Water Meter Locking system.
Manufactured from especially formulated plastic that is extremely brittle and designed to break on tampering and/or attempt to remove.
Transparent Snap locking mechanism remains secured and protected and provides clear indication of tampering.
Locking device can be easily checked and recognised.
Any breakage or removal leaves traces visible to the naked eye.
Designed for single use and once removed cannot be re-used.
The identification marks, Unique serial number provided on each set.
Resistant to accidental breakage.
Resistant to long term direct sunlight or rain water exposure.
Withstand High temperature.
No scope of tampering by boiling water, excessive heat application or any solvents/chemicals.
Corrosion resistant.
Environment friendly contains no lead.
Suitable for indoor or outdoor application.
Available in variety of see-through transparent colours.
No tool required for sealing.
LOCKING MECHANISM
Easy push-fit locking mechanism provides positive, secured and permanent locking. A separate tamper evident wire security seals for additional protection included with each set.
DESIGNED FOR SINGLE USE
Once locked the seal cannot be opened without tamper indication and when removed and cannot be resealed.
COLOURS
Available in Transparent Clear, Transparent Red, Transparent Blue, Transparent Green, Transparent Yellow, Transparent Orange.
LOGO/IDENTIFICATION CODE
Customer's Security Identification and/or codes are provided, which are permanent and cannot be manipulated.
SERIAL NUMBERING
7 digit consecutive serial numbers provided on each seal.
PACKING
10 sets of Connection nut locks with 10 nos. Tamper Evident Seals packed in a polybag.
INSTALLATION GUIDE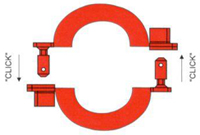 Put one part below the connector and pipe and other on the top.
Push the insert pin into one another, apply pressure.
Connector lock is assembled.
Now thread the end of wire seal into the hole on one side then to meter cover and then other side of the connection lock and then into seal and lock.