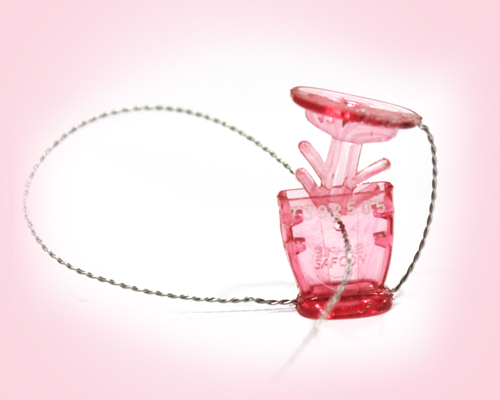 Tamper Evident Polycarbonate Meter Security Seals
Single Use Double Anchor Security Seal That Provides Highest Protection To Utility Meters
---
Most Effective Double Anchor Polycarbonate Locking System
Hi-Rise Moulded Logo Resist Replacement With Fake Seal
Pull Resistant 2-Strand Spiraled Steel Wire
Transparent Body Provides Clear Signs of Tampering
Tool Less Application
Resistant To Boiling Water
PRODUCT DETAILS
Seal Body
One piece injection moulded seal body and anchor are made of impact resistant, transparent polycarbonate which are impervious to temperature oscillations. High relief embossed customers' identification logo incorporated in moulding stage itself prevents duplication and use of fake seal in the system.
Sealing Wire
Corrosion resistant Stainless steel sealing wire is permanently integrated on both seal body and anchor part and cannot be separated in any circumstances.
Locking Mechanism
Easy push-fit double anchor locking mechanism provides positive, secured and permanent locking
Designed For Single Use
Once locked the seal cannot be opened without tamper indications and when removed, it cannot be resealed.
Packing
100 nos seals packed in one polybag. One Carton containing 10 x polybags totaling 1000 seals in one box.
CUSTOMISATIONS
Colours
Available in transparent clear, transparent red, transparent blue, transparent green, transparent yellow, transparent brown, transparent orange, transparent gray.
Logo / Identification Code
High relief embossed customers' identification logo and/or codes are provided which are permanent and cannot be manipulated.
Serial Numbering
7 digit highly visible thermo engraved numeric or alpha-numeric consecutive serial numbers provided on each seal. The positioning and engraving enables easy reading, recording and verification of serial numbers.
KEY FEATURES
No tool required for sealing
Visible double anchor locking mechanism remain secured and protected and clear indication of tampering
Any breakage or removal leaves traces visible to the naked eye
Designed for single use and once removed cannot be re-used.
The identification marks of seals impossible to falsify and difficult to reproduce.
Environment friendly, contains no lead
Suitable for indoor or outdoor application
OTHER DESIGN FEATURES
Most effective tamper evident sealing device
Seal can be easily checked and recognised
Resistant to accidental breakage
Resistant to long term direct sunlight or rain water exposure
Withstand High temperature
No scope of tampering by boiling water, excessive heat application or any solvents/ chemicals
Corrosion resistant
Available in variety of see - through transparent colours
PREFERRED APPLICATION
Utility Meters - electric, gas, water/taxi meters
Meter boxes
Bulk tankers
Oil Tanker
Customs seals
Transformers and Distribution Boxes
Valves in petrochemical industry