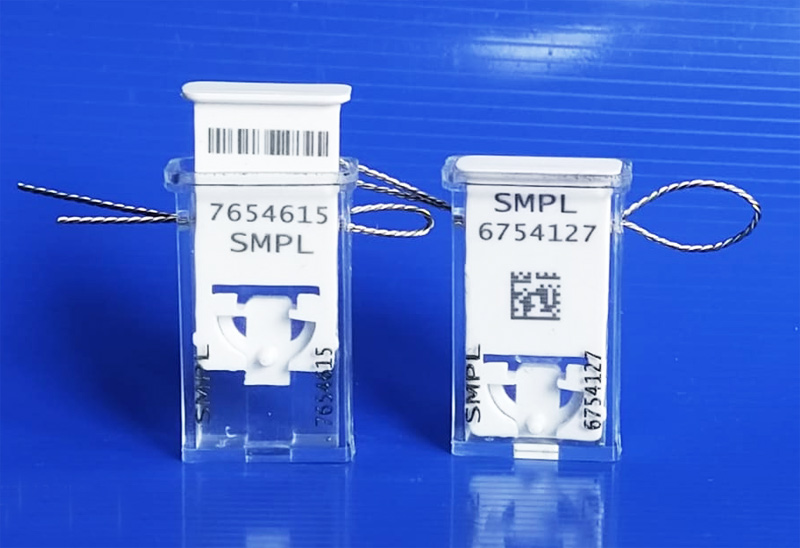 SMAATTM Security Seal (Push Type)
SMART TAMPER INDICATING SECURITY SEAL WITH HIGH PROTECTION LEVEL
---
Sharda Smaat Security Seal is specifically designed for use on electric and utility meters and weight and measurement equipment/devices. It's unique design features, transparent housing body and opaque locking pin give an exceptionally high level of security. The seal is designed for single use and cannot be accidentally opened and wire must be cut by a cutting plier for removal. Laser engraved security code (word logo) and non-repeat sequential serial numbering with barcode makes each seal unique.
Key Features
Easy finger closure. Simply insert wire end through upper side hole via equipment recess and apply thumb pressure, it's locked permanently.
Multi-level push-fit locking system
Cannot be accidentally opened - simple cutting plier needed for removal.
Transparent housing gives the seal a complete visualization of the locking mechanism. Internal locking mechanism is the most critical part of the seal, since most of tampering occurs at this part. The signs of internal tampering will be easily detected.
Especially designed 2-strand twisted spiraled wire and pull resistant guard provides sign of tampering when the sealing wire is forcibly pulled out.
Laser engraved logo and serial numbers on both outer housing and inner locking pin prevents any chance of manipulating the seal. In case of removal and replacing of the locking pin occurs, the logo and serial numbers will mismatch and tampering will be clearly evident.
The seal is provided with unique 2D or 1D barcode for easy reading, recording and verification by Barcode Reader.
Materials show clear signs of tampering such as discoloration when compromised by penetration, drilling, cutting, bending or pulling.
The seal's hardness avoids illicit manipulation, especially when tampering is made by immersion in boiling water, to soften the locking mechanism.
Other Design Features
Designed for single use, destructs when opened.
Versatile product (fits almost all applications).
Seal can withstand temperature upto 148°C.
Cost effective with value added features.
Withstands long-term exposure to direct sunlight, rain water etc.
Durable, ultra violet resistant and can withstand varied weather conditions.
Environmentally safe – contains no lead.
Customizations
COLOURS
Housing Body: Transparent Clear
LOGO/IDENTIFICATION CODE
For additional control and protection body is printed with company name or identification code.
SERIAL NUMBERING
Serial numbers provided on both parts.
Preferred Application
Smart Meters
Electric Meters
Water Meters
Gas Meters
Prepaid Meters
AMR
Trivector
Transformers
Control Panels
Distribution Box
Taxi Meters
Road Tankers
Valves
Cash Boxes
Ballot Tax
Weight & Measurement Equipment / Devices