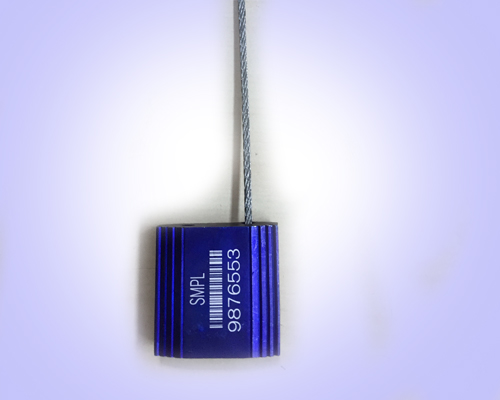 Twenty four Sentry Seals
Most Reliable 24 HOURS SENTRY to protect your revenue
---
TWENTY FOUR SENTRY SEAL is a highly secured, single use seal, made of high grade Aluminium material with a non-preformed, non-corrosive stainless steel wire. The wire diameter is available in 1.2, 1.5, 2.0 mm with a tensile pull out strength of around 100-250 kgs, making it incredibly strong. The standard cable length is 150mm.
This unique security seal is especially designed to provide highest level of security to electricity meters installed in HT/LT Industrial zones to safeguard meters from being tampered with and to prevent power theft. The security seal is patented and therefore cannot be copied by unscrupulous manufacturers.
It is a known fact that major electricity theft happens in industrial sector by tampering meters and this Twenty Four Hour Sentry Seal is here to protect your revenue and is available at a very cost effective price.
Material
Rust-proof Aluminium body and stainless steel wire rope
Packing
50 seals sequentially packed in polybag and 20 polybags packed into 1 carton
KEY FEATURES
Durable and tough. Super strong product.
Patented, unique all-metal security seal.
6" long non-corrosive stainless steel braided wire for long term application. Other length can be supplied on request.
Braided wire frays when cut, making re-welding impossible or reuse.
One end of the wire is permanently secured to the seal body.
No special tool required for installation.
Locking mechanism not accessible by inserting any tool.
Withstand extreme temperature of 800 degree Fahrenheit. The Sentry Seal is made of Aluminium alloy with surface treated to withstand hostile environmental conditions.
Reduce losses by providing high level of anti-theft security to Electricity Meters, Meter Boxes in HT/LT zones.
Simple, robust design fits most standard specifications of Electric Meters, Meter Boxes, Transformers, Control panels, Distribution boxes enclosures, Power Stations doors etc.
OTHER DESIGN FEATURES
It has simple and most effective locking system.
No chance of tampering by excessive heat, boiling water or chemicals.
Easy to apply, pass cable through hole to desired length and tight the locking key. When tighten completely just twist the locking key with lateral push, it will break and the seal will become a keyless lock.
Once installed, it can only be removed by cutting the wire
Each Seal provided with customer identification Code.
Non repeat sequential serial numbering which cannot be replaced for malpractice.
Barcoded serial number on request for easy reading by barcode scanner/reader.
Barcode, Bright colour eases in identification from a distance.
PREFERRED APPLICATIONS
Utility Meters - Electric/Smart/Prepaid Meters/Meter Boxes
Power Industry - Transformers