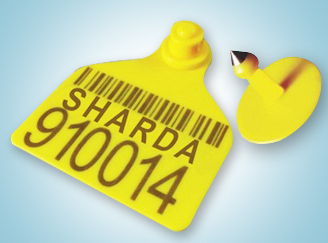 IDEN-T Eartag & Eartag Applicator
---
IDEN-T ear tags are designed for identification of livestock and other animals. These ear tags are easily applied with an ear tag applicator. The ear tags are designed for one-time use (tamper evident) and are imprinted with Customer's desired details. Plain tags also supplied for marking by indelible marker pen.
PRODUCT DETAILS
The ear tag comprises of two parts - Male & Female parts
The male part is a button with a diameter of 27 mm (±2mm).
The male part has a metal point.
The Standard size female part is 58 x 69 mm with a closed head for cows and buffalos.
Once applied, it's impossible to reopen by any means and is tamperproof.
Material
UV resistant Ether grade Thermoplastic Polyurethane Elastomer material suitable for high and low temperature The metal pin of the male part is made of brass.
Packing
100 nos. seals packed in a polybag & 5 such polybags totaling 500 Ear tags in one corrugated box
Type Test Certificates
The ear tags are tested and quality is controlled at every stage of production. The Ear Tags are periodically tested at reputed government testing laboratories for the following:
PULLING FORCE TEST
WEAR RESISTANCE TEST
HEAT RESISTANCE TEST
TPU GRADE
Weight
The weight of the standard size ear tag (including both male & female parts): 7 grams (+ 10%). Ear Tag Applicator: Compatible Universal applicator with 1 extra pin is supplied.
CUSTOMISATIONS
Colours
Available in Lemon Yellow as standard. Other available standard colours are red, blue, green. Some special colours like brown, orange, grey, violet can be supplied against bulk orders.
Unique Identification Code, Barcode, Serial Numbering
Permanent easy readable laser markings are provided as per customers requirements.
Standard Printing
1st Line: One dimensional Barcode with encoding 128, 10mm high ( + 1mm ).
2nd Line: A row of 6 digits, 10mm high ( + 1mm ).
3rd Line: A row of 6 digits, 18mm high ( + 1mm ).