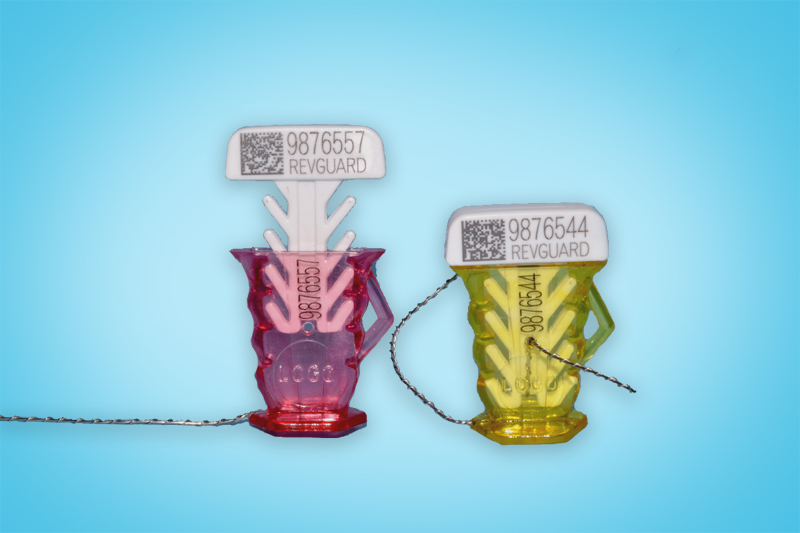 Revguard Tamper Resistant Barcoded Security Seals
Protect Against Unauthorised Entry - Meter Tampering Vandalism. No Tool Required, Fits All Meters – Electric, Gas, Water, Taxi
---
REVGUARD, a new generation Meter Security Seal, provides deterrent to meter tampering. The unique and novel tamper resistant seal is most reliable utility meter seal. The seal must be broken to remove. Each seal is provided with customer's logo, serial number and barcoded (1D or 2D) serial number. Both housing and locking insert are provided with serial numbers and logo to avoid part swapping for malpractice or any manipulation. The seals has in-built, especially designed, pull resistant stainless steel sealing wire. Locking is most convenient and user-friendly.
Material:
High grade Polycarbonate and Stainless Steel sealing wire
Packing:
100 pcs per bag
Key Features
State-of-the art, one-piece and ready-to-use security seal.
Transparent designer cup shaped housing body and multi arms locking insert with Pull Resistant Stainless Steel Sealing Wire.
Unique eight arms tamper resistant Push-fit locking mechanism.
Easiest locking by hand, no tools required. Simply insert wire end through hole via equipment recess and apply thumb pressure, it's locked permanently.
Transparent body gives the seal a complete visualization of its tamper resistant internal locking mechanism to provide clear evidence of tampering if unauthorized attempt is made.
All seals are uniquely numbered which allows for individual accountability. The serial numbering is permanent and cannot be manipulated for malpractice by counterfeiters.
The seal design is unique and is provided with barcode serial number for easy reading, recording and verification by Barcode Reader.
Logo and serial numbers on both housing body and inner locking insert prevents any chance of manipulating the seal. If someone tries to remove the locking insert and tries to replace, then the logo and serial numbers will be mismatched and tampering will be easily evident.
High Strength UV resistant polycarbonate not affected by boiling water, common solvents, mild acids.
Specially designed Pull resistant non-corrosive stainless steel wire. The seal's hardness avoids illicit manipulation, especially when tampering is made by immersion in boiling water, to soften the locking mechanism.
Materials show clear signs of tampering such as discoloration when the material is compromised by penetration, drilling, cutting, bending or pulling etc.
The high-tech manufacturing process of this seal prevents its reproduction by an illegal plant of low technical standards.
Other Design Features
Ergonomically user friendly.
Designed for single use, destructs when opened.
Versatile product (fits almost all applications).
Available with varied wire lengths 6" to 12" as per customer's requirement.
Seal can withstand temperature upto 148°C.
Cost effective with value added features.
Withstands long-term exposure to direct sunlight, rain water etc.
Durable, ultra violet resistant and can withstand varied weather conditions.
Environmentally safe – contains no lead.
Customizations
COLOURS
Housing Body: Transparent Clear, Transparent Yellow, Transparent Green, Transparent Blue, Transparent Red
Locking Insert : Opaque White
Custom colour may be possible.
LOGO/IDENTIFICATION CODE
For additional control and protection body is printed with company name or identification code.
SERIAL NUMBERING
Serial numbers provided on both parts.
Preferred Application
Electric Meters
Water Meters
Gas Meters
Taxi Meters
Pay phones
Casino / Game Machines
Petroleum Tankers
Calibration
Warehouses
Valves
Reservoirs
Vans
Containers
Fuel Stations
Cash Boxes
Toll Tax
Money Bags
Lockers / Safe Deposits in Banks